Squadron Leader Frank Lawrence DFC, DFM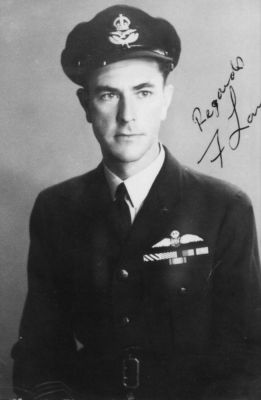 Squadron Leader Frank Lawrence, DFC, DFM
Frank was a Squadron Leader serving with both the Australian 460 and 467 Pathfinder Squadrons, based in England, and flew 38 missions. He returned to 460 Squadron as a flight commander in time to lead 460 Squadron Lancasters in the Manna drop in March, April 1945.
In 1943 he was presented with a DFM (Distinguished Flying Medal) by King George VI and at the end of the war was awarded the DFC (Distinguished Flying Cross).
Squadron Leader Frank Lawrence was on the battle order for the third raid on Hamburg. Approaching Hamburg at 22,000 feet, they had just flown into a violent thunderstorm and despite suddenly being thrown around, all was going well. Bomb aimer Algie Fitzpatrick had ordered bomb doors open;
Left .......left,.......steady,.........steady,.........steady...
Suddenly with no warning an engine cut out, followed by another, then another, then another. With only one motor, the skipper ordered immediate dropping of their bomb load. Desperately trying to get any engine restarted, Frank controlled the aircraft in a long controlled glide as he tried to get a motor restarted. Gradually losing height, they had descended to 8000 feet when Frank gave the order to bail out.
He had hardly finished when suddenly one of his motors coughed and restarted. The crew held their places and they had descended to 2000 feet when all engines had restarted. It was possibly icing that had caused the engines to close down.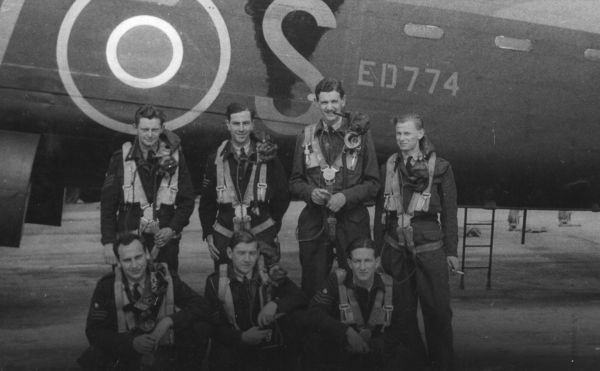 Back Row: Mid-Upper Gunner: Tom Morgan, DFM, Flight Engineer: Dick Renton, DFM, Pilot: Frank Lawrence DFM, Navigator: Ern Cappi, DFC; Front Row:
Rear Gunner:
Quentyin Richardson, DFM,
Wireless Operator:
Reg White, DFM,
Bomb Aimer:
Algie Fitzpatrick, DFM
No other cases of similar occurrence had occurred, however, planes were lost and could have had the same problem.
Thankful that they had managed to clear the immense fires from the bomber, and now with the engines once more running, they set course for home, climbing on track to get some height over the North Sea.
One problem the crew had was with the wireless/operator smoking in the aircraft, so Frank decided he needed a lesson.. He arranged with the engineer when Fitzie lit up the engineer would change the petrol feed. At the same time Frank jiggled his throttles with the motors spluttering a little. Fitz, fearing a bail out, immediately put out the cigarette, thus teaching him he could not afford to be smoking.
The crew had taken to taking a brick on their raids and over the target toss it out. Another method of getting their own satisfaction was some crews were saving bottles, which they also threw out over the target. The Germans were claiming that the Allies were suspected of having a new secret weapon. The bottles dropping from the aircraft at approx 180 mph tuning over and over were creating an unearthly screaming sound.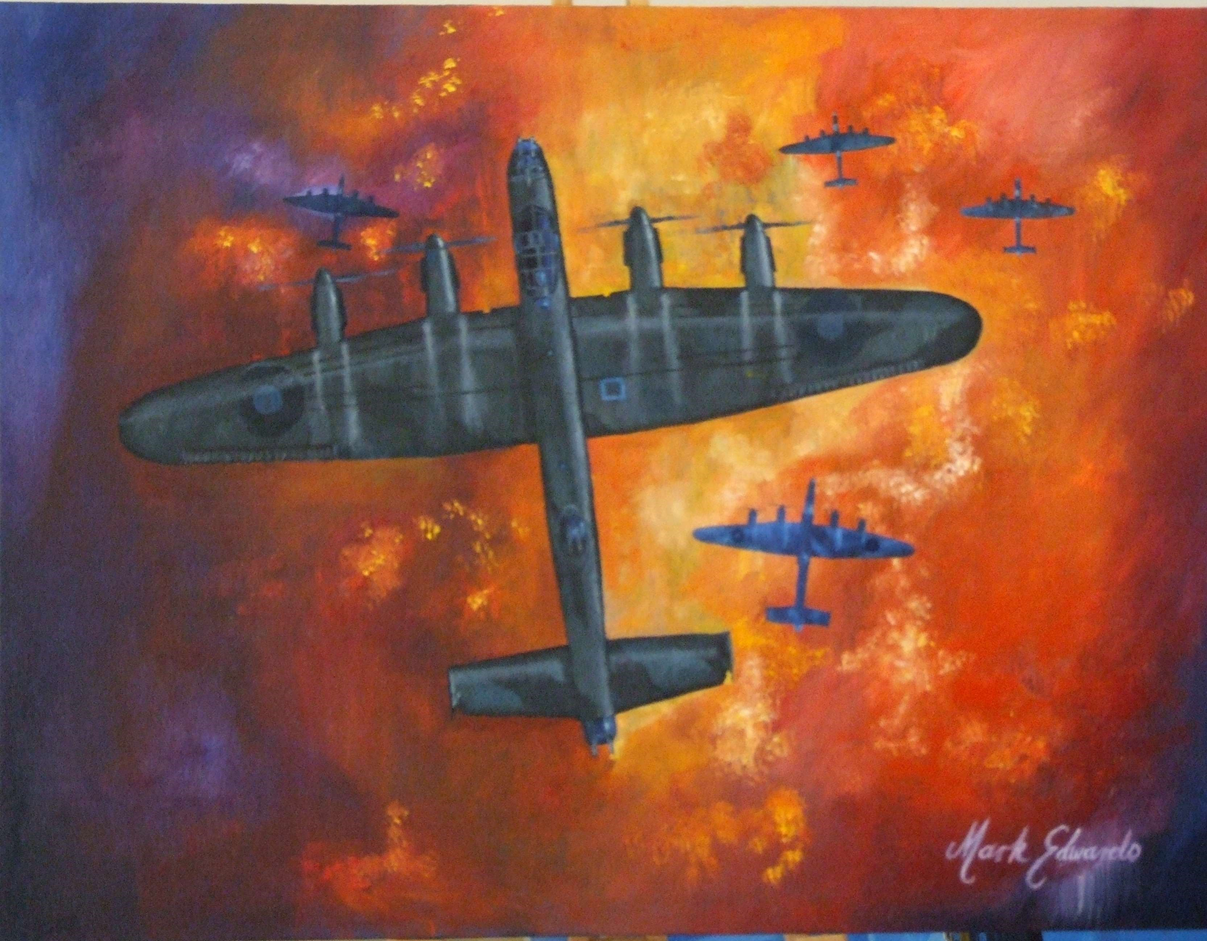 Lancaster bomber over Hamburg
(by gifted aviation artist Mark Edwards)
When 460 Squadron moved to Binbrook they had problems as the entrenched RAF officers had taken over the fireside chairs and treated the new Australians crews as interlopers. It got so bad that finally in the power struggle Fitsie and others gathered together and stated, "OK you bastards, if you don't remove your arses from in front of the fires we will burn it down". They promptly stacked chairs and tables in a heap and with a can of petrol got ready to set it alight. The CO arrived just in time to stop them, but it had the rightly effect as the RAF officers realised these Aussies were not going to be a push over, but would demand a fair deal.
Frank in early 1945 returned to Binbrook as a Flight Commander in time for the Manna drop of food to the starving Dutch people who were dying from starvation at the rate of 1000 a day. He agreed that his participation in Operation 'Manna' was definitely the most emotional and rewarding experience of his entire war service.
"It (Operation Manna) should be taught in the schools so everyone is aware of what happened, and the Dutch people are still thankful for it", said Frank. "The Dutch nation today is still so grateful that it holds an annual celebration similar to our Ansac Day".