Canberra Commemorative Gathering
Morning Tea at the Great Hall Parliament House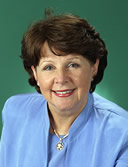 The Hon. the Minister of Veteran Affairs, Danna Vale, MP.
The Hon. Minister of Veteran Affairs, Danna Vale, MP.
Great Hall Parliament House, Canberra, 3 December 2003
It is my personal delight to warmly welcome you all into the Great Hall of Federal Parliament as part of your national reunion.
In welcoming you to this special occasion, I also feel a sense of sadness at this perhaps being the last national reunion of the 460 Squadron RAAF Association. As it must, time has taken its toll on the members the Squadron. But, just as I am sure the memories of your wartime service are still strong, I want to assure you that Australia also remembers and honours you and your mates.
The men of Bomber Command paid a great price for their service in defence of our democratic freedoms, and there could be no more fitting place to say this than here, in the building that represents the very heart of our democracy.
Of Australia's losses during World War II, more than one in 10 occurred in the skies over Europe. In the history of Australia's bomber squadrons, 460 Squadron has an unequalled reputation. Your squadron flew more operations, delivered more bombs to targets and sadly lost more aircrew and aircraft than any other.
Today, and during this reunion, we remember and honour the more than 1000 members of your squadron who lost their lives. It is fitting that their sacrifice, and your service during World War II has now been permanently and predominantly acknowledged in the very heart of London, with the dedication on Remembrance Day of the new Australian War Memorial in Hyde Park.
I had the privilege of leading a mission party of World War II veterans and war widows to attend the dedication of the memorial, including a large number of RAAF veterans. Among them was Clarrie Gardner, who was selected to represent 460 Squadron. I enjoyed catching up with Clarrie last night and am delighted to see him here again today.
In London, we also visited the Air Forces Memorial at Runnymede, which is a tribute to aircrews who lost their lives and who have no known grave. This visit was an insight into the great sacrifice of aircrew during World War II, particularly Bomber Command, which features heavily at the memorial.
G for George's return to the Australian War Memorial is yet another tribute to those who served in Bomber Command, particularly the members of 460 Squadron. This Government is rightly proud of its support for commemorations, which are a traditional and fundamental part of keeping all our veterans' and their sacrifice in the forefront of our national consciousness.
So, it is with great pleasure that I take this opportunity to announce a grant of more than $900 to the 460 Squadron RAAF Association for the installation of a plaque commemorating the service of your squadron at the Hughie Edwards VC Memorial Park on the Remembrance Driveway, Canberra.
I look forward to seeing you all again at the unveiling of this special exhibition on Saturday. G for George will remain at the Memorial for decades to come, ensuring future generations of Australian's will continue to honour the service of 460 Squadron.
Thank you.