Recruiting and Training
Recruiting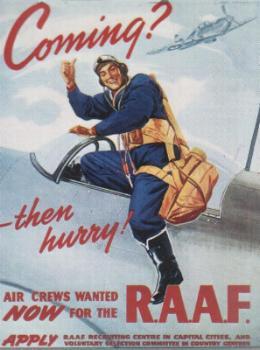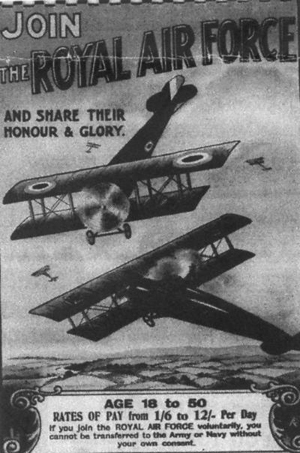 With posters enticing enrolments what young man or woman would resist such a challenge?
Air Force propaganda glamorised the pilot, especially the fighter pilot. The pilots always received the decorations and the promotions etc., however it was soon apparent that although most aircrew members wanted to be a pilot, very few would be selected for pilot training. Contrary to the air force propaganda many of the dare devil and potentially possibly some of our greatest airmen were scrubbed from the pilot's course for low flying, and from other categories because the going was too tough and the qualifications too demanding, with close on 50% failing the air crew course. Many of the aircrew were judged and assessed for further training, in an interview before a pre–selection board, of a couple of regular air force pilots, plus three educational instructor school teachers. They pre–judged all airmen by their appearance and their exam marks. In the Royal Australian Air Force aircrew aspirants were never given a chance, nor a test as to their suitability as pilots.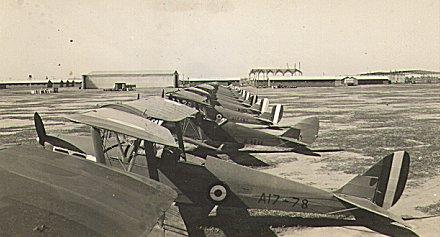 Pilots commenced their flying in De Havilland "Tiger Moths" often referred to as "Tigersmits".
Training
Bomber Command, and 460 squadron veteran Laurie Woods speaking at his Sunnybank home in Queensland said one of the more exciting episodes of his service life was when, a couple of Japanese submarines, were reported off Adelaide.
"At Air Observers School at Mt. Gambier, South Australia, our first flying training school my first sight of an aeroplane doing a night landing and my first flight in an aeroplane on the 28th September, 1942. We were flying in an old Anson, twin engine bomber, built with a light metal frame and covered in fabric. Although slow, with an average cruising speed of 120mph they were a fairly stable aircraft and reasonably safe.
In company with two West Australian trainees, we lined up beside the plane, with the pilot. He held out a sickie bag to each one of us, saying: "It is no disgrace for an aircrew trainee to be airsick on their first flight". For the next hour he did everything possible to make us airsick. One of the fellows succumbed and held the bag out to me and yelled: "What do I do with this!" I pointed out the window not wanting him to upset my stomach by sticking his bag under my nose.
Suddenly I had a thought, I hope he doesn't jump out the window himself. I grabbed him, taking the bag from him and threw it out myself. To me the hardest part of flying in Ansons was the winding up of the landing gear after take off, and winding it down before coming in to land.
With only a few hours flying experience we were briefed in eight Anson planes for an air search out over Spencers Gulf following a report Japanese submarines had been sighted. In company with a half dozen Beaufighter night fighter/bombers (nicknamed "Whispering Death" by the Japanese, as they couldn't be heard until right over you), led by Squadron/Leader (Wiry Whiskers) McCormack, we set out on an exiting and exhilarating search.
What if we spotted a Jap submarine? We could drop our aluminium 11 lbs sea markers which was our only offensive weapon to mark the spot and call the Beaufighters. We would be having a grandstand view of the submarines being blasted out of the water. What if they were surfaced and started firing at us, could we get away quick enough? We never did get an answer, We flew over the sea on 12 October 1942 and again on the 14 October 1942 flying a three–hour sweep across Spencers Gulf. What a disappointment, no sightings of submarines were made.
The Beaufighter leader Squadron/Leader McCormack, with "Biggles" type wiry whiskers, twirled on the end, the imagery of the real fighter pilot stuff, with tunic top button undone, proved too much for the station pilots and officers. After a drinking session they got the Squadron Leader down, cut off his moustache from one side of his face, and ruined his ego. He left Mount Gambier station as mad as hell".
Operation Manna | 460 Squadron Manna Operation