Accolades
Marshal of the Royal Air Force -
Sir Arthur T. Harris, Bt, GCB, OBE, AFC, LLD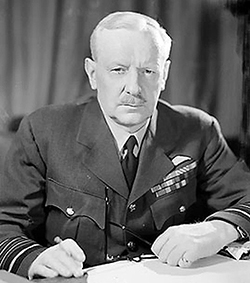 Air Chief Marshal Sir Arthur Harris, Commander in Chief of Royal Air Force Bomber Command, seated at his desk at Bomber Command HQ, High Wycombe - 24 April 1944
Air Officer Commanding–in–Chief, Bomber Command
February 1942 – September 1945
The Lancaster, beyond doubt, was a major factor in beating the Nazi enemy down to defeat – as even the enemy admitted. But no aircraft, however outstanding in qualities, can be an effective weapon of war unless the aircrew that man them are also of superlative quality. That the Lancaster crews were of such a breed is evidenced by their deeds.
This country, and its allies, owe these young men – the Many that died, the Few that survived – a debt they have not met: because it can never be met in full.
It is due to them, and their kind in the other Services, that Britain today is not a mere slave market in a Nazi Empire.
That was the Plan.
Never forget it.
Please read the full speech -

Sir Arthur T. Harris Speech (52Kb)