"G" for George
The Story of "G" for George
Newspaper article:
George was a veteran long before the Australians arrived at Binbrook.
On the day the Aussies flew into their new home from Breighton, near York, the Mk 1 Lancaster already had 34 symbols painted on her nose. Officially she was Lancaster Mk 1 AR-G, but everyone in 460 Squadron knew her as George. She was a lucky Lancaster.
Built in 1942, she was delivered to the squadron at Breighton and flew her first operation on December 6 that year. By the time the squadron moved to its new home at Binbrook, George had established a reputation for liability. She was, simply, a Lanc that wouldn't let you down.
She didn't always return unscathed. On the night of December 16/17, 1943 - a night when Bomber Command was to lose 30-plus Lancasters - George was attacked by a German night fighter over Berlin. The night fighter hit George with both with both cannon and machine gun fire and came so close that her crew saw that it, too, sported the G-registrations. Perhaps there was a brotherhood of the Georges that night. But the fighter broke off the attack and George made it back to Binbrook.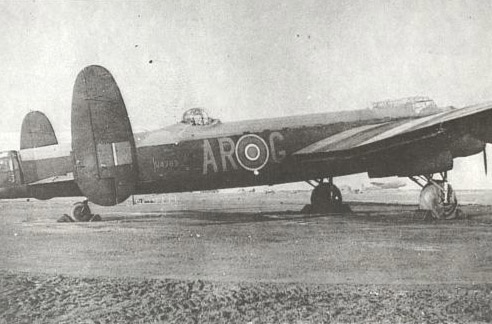 Her last trip was on April 20, 1944, when George took part in a raid on Cologne. By this time she was a tired old Lancaster and a new role had been earmarked for her.
The Lancaster had become the symbol of Bomber Command and it was a symbol which was as strong in Australia - which provided a sizable proportion of aircrew - as it was in Britain.
It was decided that George should fly to Australia to help promote the War Savings movement and, at a ceremony at Binbrook on May 20, the Lancaster was officially handed over to the Australian Prime Minister John Curtin, who was on an official visit to Britain. By that time George had logged an impressive 668 hours of operational flying.
She finally left the airfield where she had written herself into the history of the country of the men who flew her on May 29 for a major overhaul before her 12,000-mile flight to Australia. She left Prestwick on October 11, flying via Montreal, San Francisco, Hawaii, Fiji and New Caledonia.
Her fund-raising duties done, George was left to moulder on the edge of a Canberra airfield until, in 1955, someone realised that the aircraft represented a significant part of Australia's military history.
George was saved from the scrap merchants. She was restored to her original glory and found a final resting place in the Canberra museum where she still stands today. But that wasn't the final accolade for this fine old aircraft. She was picked by Airfix as the Lancaster on which they would based their plastic Lancaster kit and for more than two decades thousands of little boys around the world glued together faithful reproductions of a very famous Binbrook aircraft.
Extract from "Lancaster, The Story of a Famous Bomber" by Bruce Robertson. Published 1964 by Harleyford Publications Ltd UK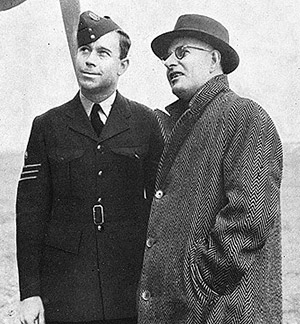 Mr Curtin is seen talking with Flt. Sgt. Harry Tickle, the ground staff engineer responsible for the maintenance of the famous Lancaster bomber "G" for George
Lancaster W4783 was delivered to No. 460 (RAAF) Squadron at Breighton on October 27th, 1942, where it became "G" for George. Its first pilot was Flight Sergeant J.A. Saint-Smith on the night raid of Mannheim on December 5/6th, 1942. The Lancaster flew a total of ninety operations. Alongside the bomb insignia to identify each bombing sortie flown by Flight Sergeant J.A. Saint Smith appeared a Leslie Charteris "Saint" insignia. During its sixteen months of operations, it was flown by 29 different pilots and some 200 different men, mostly Australians, during this Lancasters 664 flying hours with the Squadron. Several crews completed their tours on this "G" for George. On the night of January 13/17th, George operated against Berlin taking a war correspondent as passenger, and returned with 13 flak holes for him to write about!
Lancaster "G"– George operated from Breighton, until June 4th, 1943, when most of the ground crews and equipment were moved in Horsa gliders with some WAAFs (unfortunately some were airsick) while the aircrew flew to Binbrook in their Lancasters. This was the beginning of a long operational stay on a permanent drome.
The Australian Prime Minister, Mr. Curtin, during his visit to Britain, inspected several RAAF squadrons, and also met Australians serving with the RAF He was rather perturbed at the number of requests he received on whether he could have something done to prevent the number of white feathers being received by Australian aircrew on the squadrons. The feathers were a sign of cowardice to those who received them, who were considered to be dodging the war with the Japanese. This was also a strong cause for complaint when Dr Evatt visited the Australian aircrews serving in England. Mr Curtin is seen talking with Flt. Sgt. Harry Tickle, the ground staff engineer responsible for the maintenance of the famous Lancaster bomber "G" for George, which had Australian pilots on most of its 95 missions over Germany and was later flown to Australia for housing in the Australian War Memorial in Canberra.
Extracts from Pictorial History of Australia at War 1939–45 by Charles Meeking, Volume IV
Strike And Return by Peter Firkins.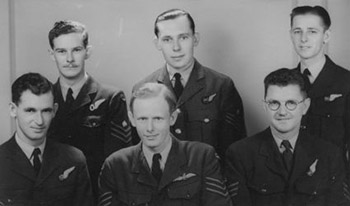 P/O Harry "Cherry" Carter and his crew who flew the most operations in "G" George (19 ops.)
L. to R. Keith Harris (Bomb-aimer) Doug Hodge, (Mid-upper Gunner) Bob Coveny, (W.Op) Gordon Peters, (Navigator)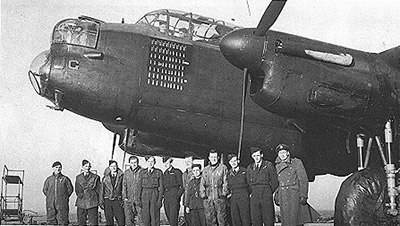 P/O Harry "Cherry" Carter, the Pilot standing in the middle, with Sgt. Harry Tickle (fourth from the left) who was responsible for the bomber's maintenance, and its ground crew.
Cherry Carter, (Pilot) and Gerry Brown, (Rear Gunner) were two of only a handful of aircrew who wore glasses and surely one of a mini handful of rear gunners who wore glasses.
After its 95th operation "G" for George had been damaged more than twenty times and was with other planes on the ground in a bomb drop in the dispersal area. On April 22nd, 1944, its last operation the previous day, it was officially retired. It was extensively overhauled for its flight to Australia, and the unit letters AR–G disappeared but the bomb silhouettes remained together with a small "G" on the nose.
Hammer and Sickle Mystery

An article written by Philip Castle appeared in the Brisbane Courier Mail of 26 May 1996 . It was titled "Hammer and Sickle an Unsolved Puzzle".
Clarrie Taylor, an ex Warrant Officer (Navigator) in 460 Squadron, was a member of the crew captained by Flight Sergeant J. Murray which flew "G" for George on 13 missions and read with interest the article on "G for George" re Hammer and Sickle Question, the famous 460 Squadron Lancaster (May 26).
On the 2 December, 1943 taking off at 1650 hours Sgt Ken Godwin and crew headed for Berlin in "G" George, and due to inaccurate wind forecasts the bombers became scattered, they were ½ an hour late over the target. The Germans had identified Berlin as the target 19 minutes before Zero Hour and many fighters were waiting. Out of 450 aircraft a total of 40 were shot down, 37 Lancasters, 2 Halifaxes and 1 Mosquito. 460 (Australian) Squadron lost 5 of its 25 Lancasters on this raid including the aircraft in which two newspaper reporters were flying. These were Captain Creig of the Daily Mail and Norman Stockton of the Sydney Sun. The body of Mr Stockton is buried in the Berlin War Cemetery.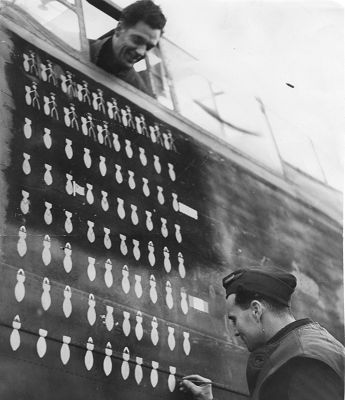 Pilot Officer Frank Lawrence DFM of Maryborough Queensland
checks on the artwork job of leading Aircraftsman H. Lacy of Mackay, Queensland.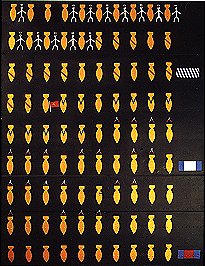 The Mission Tally for "G" for George – An impressive 95 missions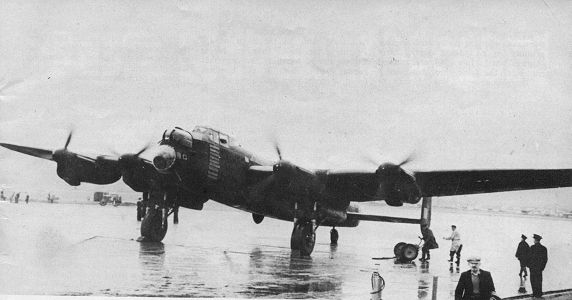 "G" for George warming up ready for takeoff from Presswick Scotland on the long journey to Australia.