Planes
---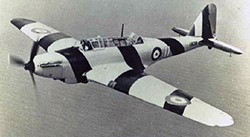 Fairey Battle
The Fairey Battle was shown to be inadequate as a day bomber early in WWII, but entered widespread use as a trainer and target tug with various Commonwealth air forces. Under the Empire Air Training Scheme (EATS), Australia took delivery of 366 of the type between June 1940 and December 1943. The Fairey Battle was withdrawn from RAAF use in 1949.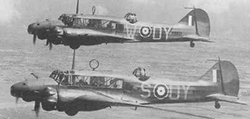 Avro Anson
The Anson was the RAAF's first retractable undercarriage, low wing monoplane, and served in great numbers (1,028 aircraft) following 1935 orders, when the RAAF set out to modernise its equipment.
It stayed in service until 1955, when the few remaining examples of this faithful machine were terribly outmoded.
It was initially intended for general reconnaissance, and particularly maritime patrol. The majority were GR.1 versions, delivered between 1936 and 1938. It began to be replaced in the maritime role by the Lockheed Hudson from 1940. Already dated, the Anson moved to its well–remembered role as a multi–engine, observers, gunners and navigators training aircraft within the Empire Air Training Scheme. 66, 67, 71 and 73 Sqns. continued anti–submarine patrols off eastern Australia from 1942.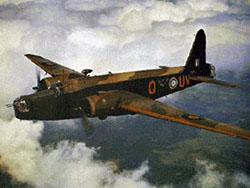 The Vickers Wellington - "Wimpy"
460 Squadron, RAAF, was equipped with Vickers Wellingtons from March to December, 1942. Squadron crews flew on 76 0perations in these aircraft, raiding targets in centres such ads Hamburg, Dortmund, Cologne and Wilhelmshaven. Affectionately named the "Wimpy" after a cartoon character, the Wellington was a twin engined bomber that doubled in many roles in Coastal and Training Commands. The Wimpy was the only bomber aircraft brought into service before the war began and was still in service well after the wars end. Specified as early as 1932, Vickers produced the first Wellington in 1936. These aircraft were fitted with Bristol Pegasus engines. Later Rolls Royce Merlins and Bristol Hercules were used. Over 11,000 were produced before manufacturing ceased in 1945. Of Geodetic Construction (cross membered) developed by Dr. Barnes Wallis of Dambuster fame, Wimpy was immensely strong. I action it was able to absorb horrific damage and still remain controllable. The aircrafts first operation against the enemy was an attack on German warships at Wilhelmshaven in 1939 and its last raid was on Previso in Northern Italy in April 1945.
Crew: 6
Pilot
Radio Operator
Navigator
Bomb aimer/Nose gunner
Tail gunner
Waist gunner
Specifications
2 X Bristol Pegasus XVlll radial engines of 1050 hp each
Speed 235 mph
Ceiling 19,000 ft
Range 1805 miles
Armament 8 X 0.303 machine guns
Bomb load 4,500 lb
Wing span 86 ft
Length 65 ft
Controls were heavy, particularly during an approach to a landing Nevertheless, a wonderful aircraft. 11,000 Wimpys proved it.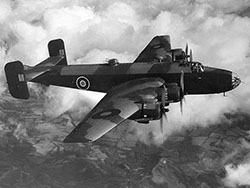 Handley Page Halifax - "Halibags"
Following on from Operational Training Units, flying the Wellington twin engined plane, air crews being posted to Bomber Command heavy bomber units, then converted on to four engined Halifax bombers. Flying in the Halifax, Gee bombings following on cross country flights and maybe a diversionary raid far out over the North Sea were carried out. Having flown 15 hours night and 15 hours daylight converting to the four engined plane, then some aircrews were then posted to squadrons flying "Halibags" whilst others after converting onto the four engined bombers were then posted to Lancaster squadrons.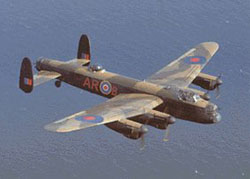 Avro Lancaster - "Lanc"
460 Squadron converted to Lancasters during September 1942. The Avro Lancaster was judged to be the most able bomber used during WWll. In 1945 it reached the summit of its effectuality by lifting and delivering a colossal 10 ton "Grand Slam" Earthquake bomb to the German submarine pens in Europe. Previously unbreachable reinforced concrete was smashed, resulting in large submarine losses. Its manoeuvrability was demonstrated when 617 (Dambuster) Squadron raided the Mohne, Eder and Scorpe dams. A pilot friendly aircraft that was a pleasure to fly. All who flew the Lanc had nothing but praise. Landings were almost "Tiger Mothish", the aircraft floating along the runway, asking for a perfect three point landing. Yet she was born a failure. Designed by Roy Chadwick for A.V.Rowe Ltd. and called the Manchester, it was fitted with two Rolls Royce Vulture engines, a new type that proved to be troublesome. The aircraft could not carry its designed bomb load and was difficult to fly. Chadwick redesigned the wing and fitted four Rolls Royce Merlins creating the mighty Lancaster. Of almost 1,000,000 tons of bombs dropped by the RAF, the Lancaster carried 610,000 tons. This was the noblest aircraft of the all. Its flying qualities were gentle and the design factors so combined, that all its crews could stand up and say, THIS WAS THE LANCASTER
Crew: 7
Pilot
Radio operator
Navigator
Bomb aimer/Nose gunner
Tail gunner
Midupper gunner
Engineer
Specifications
4 X Rolls Royce Merlin engines of 1130 hp each
Speed 275 mph
Ceiling 24,500 ft
Range 2530 miles
Armament 8X 0.303 machine guns
Bomb load 12,000 lb
Wing span 102 ft
Length 59 ft
Oh what an aeroplane
THE AVRO LANCASTER.
Notable Lancasters